So here's a little roundup of the blushes I'm loving for spring and summer. I'm not too bold and daring when it comes to blushes, I like to keep it quite nice and natural. I always want to have a natural glow to my face, and I think that the blushes I've mentioned here does that. Enjoy.

Clarins Blush – Prodige Illuminating Cheek Colour in 'Soft Peach'
I have been eyeing this blush for a while, I've long wanted a peachy/coral blush without the pink undertones, and voilà, there it was. Clarins in soft peach, looovely. I absolutely adore this blush, is looks so natural and it's very pretty. Its a soft mineral blush duo, one colour accompanied with a lighter one to highlight. This creates a lovely looking natural flush to your cheeks. You can wear them together or just one at the time, its beautiful either way. I normally use them together, I like a bit of colour to my cheeks.
I must say, the staying power on this blush is really good. It lasted me all day which is perfect for me. And an added bonus, it comes in a gold packaging which is really luxurious and pretty looking, me really likes, so it's perfect for my dressing table.
The colour in this picture looks darker and more brown than the one I have in my hand, but click here to go to Clarins website to check out all the colours.
         DIOR Glowing Colour Powder Blush in 'Framboise'
Another one that i really like is Dior's Glowing Colour Powder Blush. I've had this for a while actually and for a long time i didn't like it. I thought it gave me bad skin, but after a while I found out it was the foundation I was using, and not at all this lovely blush.
There's two shades, one slightly darker and matter than the other. Perfect to start with and then finish off with the lighter more shimmery shade. Its really pretty warm pink tones. The darker one is quite pigmented so tread carefully if you don't want to end up looking like a numpty, use a blushbrush that's not too dense. The lighter one i find is not as strong, so no need to worry about numptyness here. You can of course wear both shades together or separately, I sometimes wear just the lighter one, it is very nice for just a slight touch of colour and shimmer.
This blush stays on all day, it does fade a bit, but that's expected. Check out more colours here.
         NARS Powder Blush in 'Orgasm'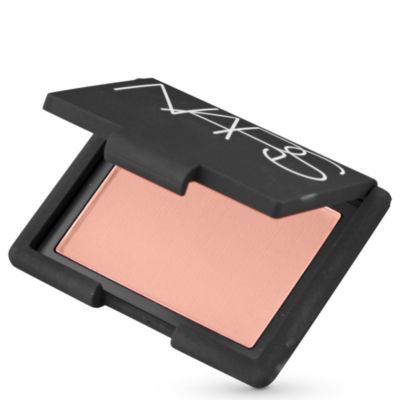 Love love love this colour. It blends very well with my skin and it looks gorgeous. Its peachypink with gold shimmer. Unfortunately this is a pro/con item. There's lots of pro's, and one con. But it's quite a big con. It falls off so easily. I've put it on in normal amounts, and even too much just to test it. And its the same, most fall off within a few hours. There is some left ofc, but obviously not the amount I wanted. And, its mainly the gold shimmer that stays on. Is this just me? It is utterly annoying as I don't fancy bringing it along with me. I like to apply makeup to a clean face with clean brushes, not a been-out-and-about-in-traffic-and-whatnot-dirty-face, and then transfer all that crap onto my makeup. Me no can do.
So, there must be a reason for me bringing this blush into this post, other than it being an Ahmazing colour. And that is that this colour comes in the form of The Multiple. This is a stick with a creamy consistency for cheek, lips and eye. This is bound to stay on for longer, me hopes 😉 I will give an update when that time comes, after profoundly trying and testing.
So even though this blush is not perfect, it is one of my favorite ones at the moment, and therefore deserves a place in this post.
Have a look here for more colours, and The Multiple here.
  So there they were, hope you enjoyed that, I wouldn't want to bore you half to death. Let me know what you like about these or what your favourite blushes are. 
*waves*
Stine